This Game is a old one and is still being played by many people all around the World
For those who dont know about the Game this is a short Into for You

What is A3 ? || Art , Alive and Attraction ||
A3 is a Game where u can Create a character based on 4 races namely
1.Mage
2.Holy Knight
3.Archer
4.Warrior
Improve your Character by Leveling it up and Making it Strong and Worthy for PVP
by Building items for it
Leveling the Character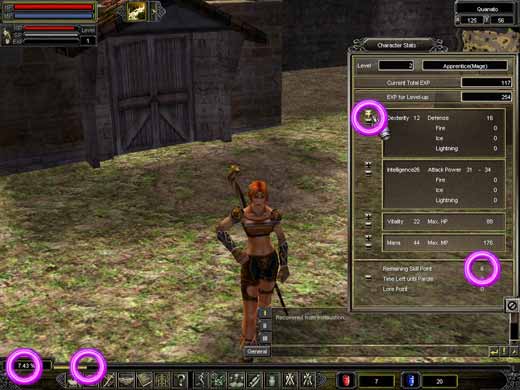 To develop your character, your character needs to have better equipments such as weapons and armors, etc... Higher items such as these require the characters to be at higher levels. As the players levels increase, they can increase the strength and defence.
Killing an monster or completing a quest gives experience points. When a user recieves such points the percentage of level completion increases. Thus when it reaches 100% the player moves to the next level.
P.S if ur Character Dies you Loose 2% of XP

Quests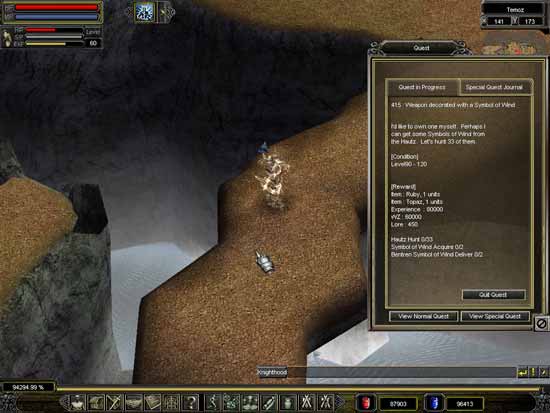 One of the interesting features of A3 is the Quests that are given by the various Merchants within the towns at various levels.
These quests not only help in giving you experience points to help you increase your percentage of level completion, but may also give you...
1 : Lore Point bonuses.
2 : Woonz (money).
3 : Gems / Free Items.
(This is in addition to the experience points)
Beginners Quest
When a new character is created, it automatically begins its 1st quest. When the character enters the map, the Quest Window (Press Q to open) opens automatically showing the Quest.
Complete this quest to get the above mentioned goodies. The quest involves the character moving from Merchant to Merchant inside the home town which helps you learn and understand more about the Merchant and the game.
To talk to the Merchant click on the Merchant and then click on Select Quest.
To help you locate the merchants have a look at the NPC Locator.
Please keep in mind that if you click on quit quest for the beginners quest. You cannot start it again unless u re create a new character.
How do you get more quests?
Talk to the Merchants in the town. Each merchant gives a quest when your character reaches a particular level.
Once the quest is active, open the Quest Window (Press Q) to get more infrmation about the quest such as
1. Quest information
2. Required character level to take up quest.
3. Quest Rewards
4. Quest specific requirements.
Quests can only be taken when the character is within the level requirement for the quest. They cannot be taken if the player is too high or too low level for it.
Player V/S Player
PVP is the most interesting part in the game because u can test your skills or show off yor skills by defeating some1 or also u can Halt a persons Levelin by pken him again and again *Thts Evil

*
The Most important thing u need in pvp is the skill and control to play the Character and also it depends on the Passives and Skill points u setup during your level up.
This is Just a Short Guide to Encourage you Guys hope u Like it
Will Post a Guide of it in Some time

P.S I Heard that A3 India Started again so you all can Start Playin from where u left or by makin new Chars